about DIY herbal tea & me
Hi Everyone -

I'm so glad you've joined me in the great adventure of growing and brewing your own herbal teas!  

Doné (nickname: "Dee")
~ That's Me! ~
Whenever I visit a website or blog for the first time, I'm curious about the person "behind the scenes".

In case you're one of those curious types, too, here's a little bit about me and my website, DIY Herbal Tea.

about me
Toddler in the garden
For as long as I can remember, I've loved digging in the dirt and growing things!

One of my earliest memories is gardening with my Nana (my gardening guru) when I was 2 or 3 years old.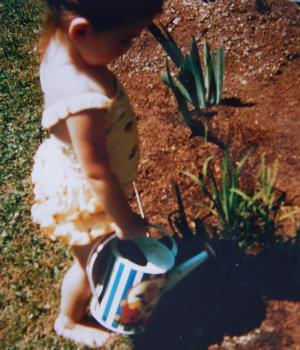 Look At That Cute Little Watering Can!
With my own little trowel, garden rake and watering can, I was happy as can be, side-by-side with Nana, "helping" her dig, plant and water her garden.

I'd watch with fascination as her flowers grew and blossomed. And when it was time to pick some mint for her iced tea, she'd let me do it all by myself!

At that tender age, I suspect I was more hindrance than help to Nana. Bless her heart, she was a very patient woman! ;-)

the "geranium incident"
Fast-forward a few years ...

I was about 5 years old when my gardening talents (actually, my gardening luck ) first came to light in what I now fondly refer to as "The Geranium Incident".  

One spring weekend, Nana and Gramps took me along on their outing to our local garden center. There, in the parking lot, I found a wilted red geranium flower.

I picked the flower up and carried it with me while Nana and Gramps shopped. At check-out time, Mr. Palazzi, the store owner, smiled at my find and told me to enjoy my flower. Enjoy it I did!

Did I put the flower in a vase on my bedside table? Or course not. Even way back then, I rarely did anything the "normal" way.  

Instead, while Nana was planting her new flowers, I planted mine, too. Yep, I stuck my withered geranium flower in the dirt and watered it in like a good little gardener. ;-)
Looking back on it now, I can only imagine Nana's shock when, several weeks later, she discovered that my once-pitiful, half-dead little geranium flower had taken root and was spouting new leaves!

As autumn was coming on, Nana and I potted up my treasured geranium and brought it indoors. I can't recall exactly how long we had that plant. But I know it was years.  :-)  

and so it began ...
Encouraged by the "The Geranium Incident" - and by Nana - my passion for gardening blossomed. (Yes, pun intended!) 


In My Easter Finery, "Harvesting" a Tulip
When I was 11 years old, growing pumpkins was my passion. My neighborhood friends and I had a fine time making homegrown Jack-o-Lanterns for Halloween!

In my teens, after seeing fields of cotton on a driving trip to Florida, I tried my hand at growing cotton. (Hint: Cotton does not  grow well in the northeastern US!)

Now, as an adult, I'm still experimenting in my gardens, always looking for something new and different to grow. Sometimes successfully, sometimes not so much. It's always a great adventure!

UPDATE: November 2018

My hubby and I are now "Sun Birds", splitting our time between coastal New England and south Florida.

I'm learning a lot about growing herbs in a tropical climate ... and looking forward to sharing my discoveries with all of you! 

how "dIY herbal tea" came to be
My fascination with growing my own tea began with a packet of German chamomile seeds - a promotional "freebie" from my local garden center.

I had a bare spot in my flower garden. So I thought, "Maybe I'll plant some chamomile seeds there." I did. And they grew. Like crazy!

Oodles of Chamomile In My Garden
My next thought was, "Hmmmm. I should try making chamomile tea". So I did. And I liked it. Alot!

Since then, my herbal tea garden has expanded from one patch of chamomile to 10 different tea herbs - everything from my must-have chamomile, to a variety of mints, to unique tea herbs like bee balm and anise hyssop.  

To sweeten my teas naturally, sans calories, I grow my own stevia, too.  

Homegrown Stevia Herb ~ Sweetness Beyond Compare!
My herbs are my little buddies. They're super-simple to grow, so they don't demand a lot of my time. And they reward me nicely!

After a busy day, there's nothing quite like a refreshing glass of homegrown lemongrass iced tea or a cup of soothing chamomile tea before bed!
Ready to Brew Fresh Chamomile Tea
During the highs and lows of day-to-day life, Nana was always there for me with a listening ear, wise advise ... and a lovely cup of tea.

Sadly, Nana has passed away. But her love of gardening and her love of a tasty "cuppa" lives on in me.

My DIY Herbal Tea website is a tribute to my Nana, and my way of sharing herbal tea gardening's delicious pleasures with all of you.

Grow ~ Brew ~ Enjoy!!

Doné


This One's For You, Nana!
Love Always,
Doné

About Me
---

If you enjoyed this article and found it helpful, please click the "Like" button to let me know. Thanks! 
---